Eddie Munson Was a "To Be Doomed" Character. Eddie Munson will no longer be in the stranger things Season 5. Read this sensational article to find out why.
The Duffer brothers, who created Stranger Things, claim that Eddie Munson played by Joseph Quinn, was a "doomed character" regardless of what happened to him in season 4.
Why there's No More Eddie Munson in Stranger Things 5
The Duffer brothers have acknowledged that Eddie Munson's alternate ending would not have made fans any happier, even though many Stranger Things fans are still grieving his passing (Joseph Quinn). Eddie Munson originally appeared in Stranger Things as Dustin's Dungeons & Dragons-playing pal, who was promptly held accountable for the first of a string of horrifying killings in Hawkins. Fans were actually disappointed by the Stranger Things death, even though Eddie ultimately gave his life to help stop the real evil responsible for the atrocities.
Eddie Munson was a character that the Duffers knew would not have a happy ending, whether he survived the Demobats or not when they discussed him on the Happy Sad Confused podcast. The fact that Eddie wouldn't survive season four was anticipated from the start. In this manner, Matt Duffer remarked, "we regarded Eddie as a bit of a doomed character." He was created from the beginning as a doomed character, so even envisioning the opposite, where he survives the conflict, is not a nice existence awaiting Eddie back on the right side up, either.
The Duffer brothers claimed that Eddie's tale could only have one logical outcome: death. He was intended to be a tragic figure in some ways. Ross Duffer remarked, "There was never another story arc for him, and actually there was no 'how do you survive this." No one in Hawkins will accept a supernatural explanation for this. He would have ended up in jail, and regrettably, this idea that he would've been able to walk and graduate was never a realistic result for him. At the very end, you see that people still drawing devil horns on his head.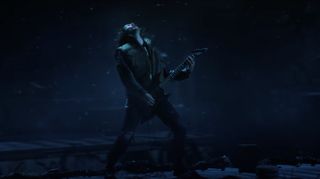 Eddie's comeback for season 5 does not appear in the cards, but Quinn and the show's viewers would still like to see it. Quinn told RadioTimes earlier this month, "I don't know, I was thinking… Joe Keery and I were brainstorming methods in which I may [come back]." I suspect that Eddie has done what he needed to do for the [Duffers]; even though many would love to see Eddie return, it seems that Eddie played his part and is now no longer needed. "Maybe I'd be a figment of Gaten's imagination or something like that if there could be some room for something supernatural."
Following the Stranger Things season 4 volume 2 conclusion, viewers vented their displeasure on social media over Eddie's apparent belated demise. Many fans were angry that he passed away in such a terrible fashion, while other fans were angry that it appeared that only Dustin (Gaten Matarazzo) genuinely lamented his loss. The writing for Stranger Things seasons 5 will start later this summer, even though it doesn't seem like Eddie Munson will feature again in the next season.