Excited about the most anticipated game system shock remake? Today, we'll show you in detail when wario64 is releasing their game very soon on Steam.
Even though the March 2023 release date has not yet been officially announced by the game's creator Nightdive Studios, Steam has updated the game's shop listing, and pre-orders are now available.
Wario64 Confirmed the Release Of System Shock Remake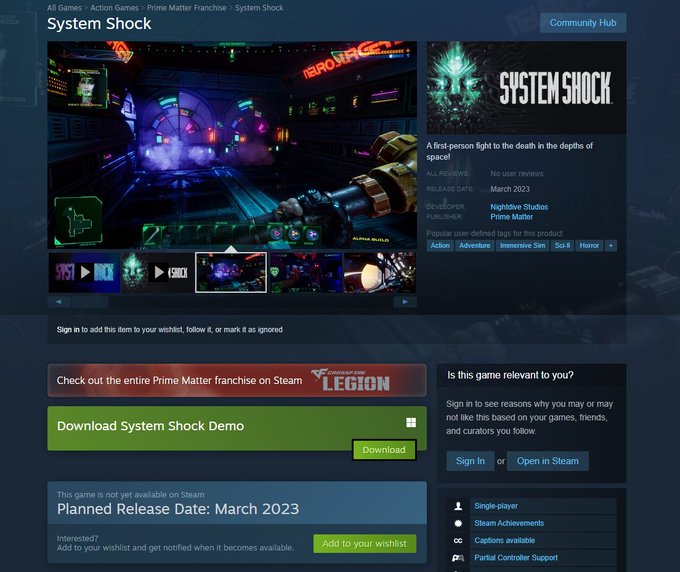 Industry insider Wario64 also noticed and reported the impending release, though several commenters weren't sure if this is a true, firm release date or merely a placeholder for the end of the year. I suppose we'll learn in March, eh?
System Shock describes itself as "the fully-fledged remake of the groundbreaking original from 1994," combining cult gameplay with "all-new HD visuals, updated controls, an overhauled interface, and all-new sounds & music," including the original voice actor of rogue AI HODAN, "one of gaming's most iconic villains."
What about the third part? According to Nightdive Studios, Tencent is still in charge of the third installment of the much-awaited System Shock game series.
Initially unveiled in 2015, System Shock 3 had Warren Spector listed as its creative advisor. However, the project was derailed in 2018 after publisher Starbreeze ran into financial issues. While Spector's company OtherSide announced it would continue working on the project independently after parting ways with Starbreeze, stories of production issues and team departures started to surface in 2020. The Chinese corporation Tencent will be "carrying the System Shock franchise forward," OtherSide declared shortly after.