Are you searching for SoundCloud alternatives? Here we got some of the top SoundCloud alternatives for music streaming.
Top 8 Soundcloud Alternatives 2023
When discussing alternatives to SoundCloud, Bandcamp is likely the first name that springs to mind. Similar to SoundCloud, it mostly supports independent artists, and musicians looking for an alternative to SoundCloud frequently start there. Each artist who registers with the programme receives a microsite they may customise where they can post and distribute their music. As a fan, you have the option to stream every song for free or to pay whatever you want to for individual songs or complete albums. By subscribing to an artist's mailing list, you can also support them financially or get a free song or album.
Bandcamp does not require musicians to pay a set yearly fee in order to upload their music, unlike SoundCloud. Up until your total sales reach $5,000, the company charges a 15% commission; after that point, the commission is reduced to 10%. On the Bandcamp website, each artist's page includes a biography, links to their social media accounts, information on their merchandise, and a list of their music that is currently accessible. Up until 2013, when the company released its mobile apps for Android and iOS, the service was only available through the internet.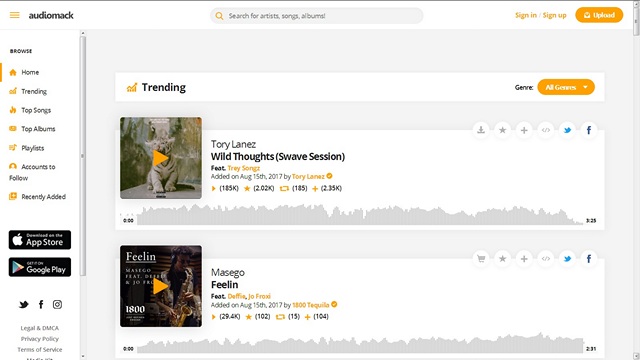 Until recently, Audiomack was mostly recognized as a hip-hop platform, but it is now one of the best online SoundCloud substitutes and has recently attracted a cult following of producers and DJs. Both the site's list of features for listeners and its look significantly reference the well-known SoundCloud website. As a result, you may share, like/favorite, repost, and add any audio to a playlist, exactly like on SoundCloud. Audiomack, however, is fully free and does not provide premium accounts, in contrast to SoundCloud, which charges users $180 per year for unlimited storage.
Audiomack is the third platform to link its services with prominent music blog aggregator Hype Machine, following SoundCloud and Bandcamp. Currently, Audiomack claims to have more than 5 million monthly users, and both Android and iOS customers love using its mobile software. If the service ever achieves SoundCloud's level of ubiquity and appeal, it remains to be seen, but it is unquestionably headed in the right direction.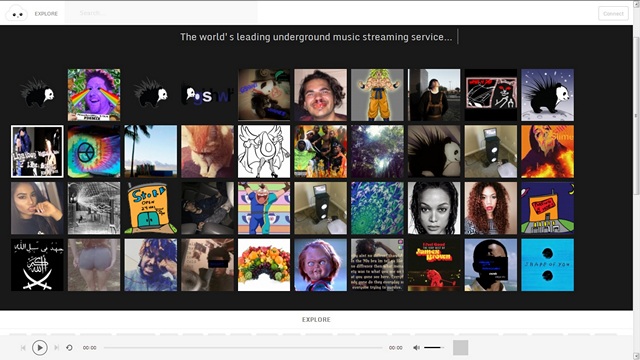 YungCloud is a perfect alternative to Soundcloud for artists that want to contact their fans directly by cutting away the many intermediaries. Yungcloud is "meant to link up-and-coming artists and give them a platform to have their music heard by wider audiences," according to its founders. The service, which was only introduced in 2015, is significantly more recent than any of the other platforms higher up on our list, living up to its name. Existing SoundCloud users will feel comfortable utilizing the YungCloud platform because it has a similar appearance and feels to the SoundCloud website.
YungCloud has all the makings of a successful SoundCloud substitute, but it is currently hindered by a few issues. The relatively high quantity of bootlegs that continue to circulate has been one of the main criticisms of the site. If the company wants to be considered seriously by musicians from around the world, it must undoubtedly treat this issue seriously. Second, for independent musicians who want their music to be heard by as many people as possible, the service's very limited user base is an issue. YungCloud will likely be a better SoundCloud substitute than it is right now once these problems are resolved, though.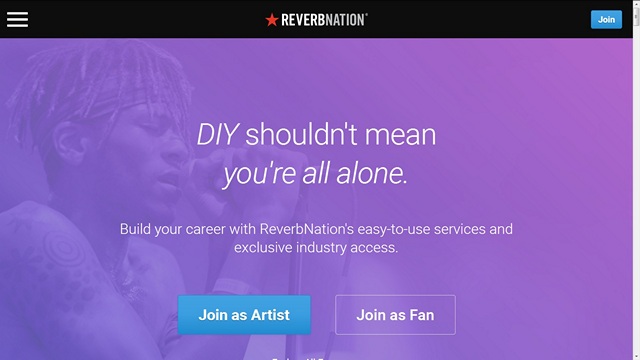 ReverbNation bills itself as an online community that "supports artists' growth by connecting them with partners in the music industry, exposing them to listeners, and developing cutting-edge tools to market their music." It has been around for a while, just like SoundCloud, but unlike its main rival, it focuses on regional independent musicians and, as a result, keeps users up to date on everything going on in the local music industry. The platform also aims to link regional artists with regional audiences and offers musicians a strong platform to build a solid following in their home cities before moving on to greater and better things.
Users can find music based on their likes on it, just like they do on SoundCloud. It has a strong local independent artist focus, so the service also offers a "Shows" function that gives users a list of local events and shows. It is definitely worth checking out as a SoundCloud substitute even if it may not be as well-known as some of the more well-known names in the industry.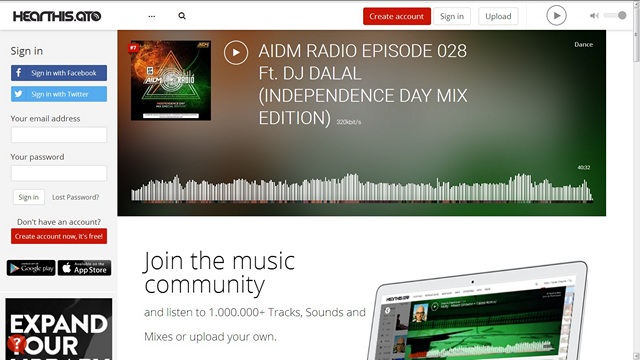 The "Best SoundCloud alternative on the internet" is how HearThis officially describes itself. Even while that doesn't mean much on its own, the service does offer a tonne of features that are comparable to those of its more renown rival. Feeds, personal pages, and the ability to like, comment on, and share music are just a few of the extensive list of features. HearThis also provides a function called "Maps" that keeps you informed about the local music scene in addition to all of the other features it provides. HearThis also lets users import their SoundCloud profiles into their platform. This makes the switch to the service even easier.
Users of HearThis can arrange their feeds according to genre, song length, and upload date. The "Groups" feature, which used to be a big part of SoundCloud but has since been taken away, is also available on this service. You'll be glad to know that HearThis, like SoundCloud, gives musicians the chance to sell their music directly to listeners, bypassing record companies and other intermediaries.
A rapidly expanding internet music publishing platform called Orfium provides direct upload and limitless free hosting to musicians. You also have the option of promoting, selling, distributing, licencing, and making money off of your music while maintaining full ownership of your copyright, which entitles you to payments for every time your music is played on YouTube, Facebook, or another website. In contrast to SoundCloud, Orfium doesn't charge you anything to upload your music to the platform and only takes a 20% commission on your earnings once your material starts bringing in money.
The Orfium website resembles SoundCloud in that it features tabs for albums, tracks, and playlists, which is good news for fans. The service also has a similar "Discover" option to SoundCloud, but you can also manually search for music by mood, subgenre, and genre.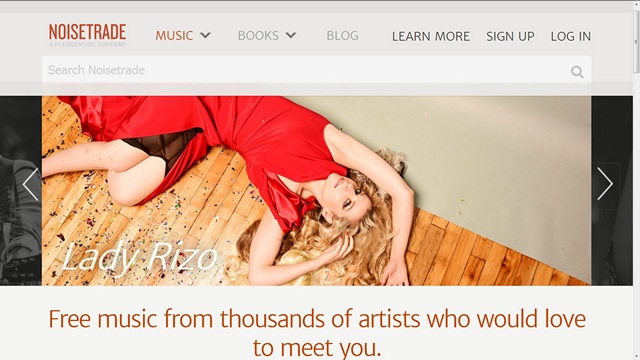 NoiseTrade is a site that was started in Nashville, Tennessee, and is a lot like SoundCloud. It lets independent musicians share their albums and songs with listeners for free. The platform also provides a comparable option for authors, but I haven't given it much more than a cursory scan, so I won't comment on it just yet. American singer-songwriter Derek Webb and a few other musicians started it all back in 2008. The program was "intended to assist artists to expand their following by offering free music in exchange for fan data (email & postal code)," according to NoiseTrade's official website.
Musicians can upload their works to NoiseTrade, where fans can download them for free. Fans must register with an email ID, Zip or Postal code, and an optional newsletter in order to receive their free music. Additionally, fans can donate any amount of money to artists by sharing their work on social media.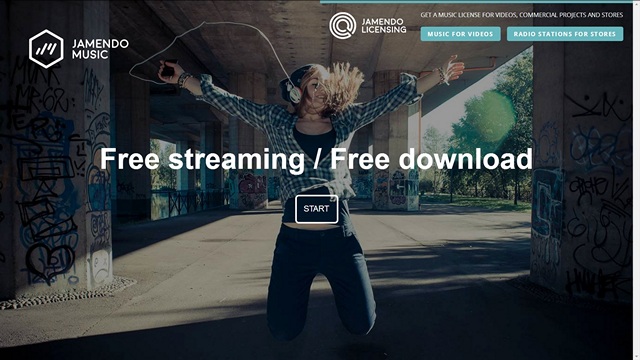 The largest digital service for free music in the world, according to Jamendo, is an online music distribution network. Its found in 2005 with the intention of making music available under Creative Commons licenses, it continues to provide free music for private use. The company's website states that its purpose is to unite artists and their fans from all over the world by "creating experiences and value around it" in order to create a global community of indie music fans.
Fans can download music for free through Jamendo, but artists can make money off of their work by selling music licensing rights through a platform called "Jamendo Licensing." The organization claims to have a community of around 3 million people, and it has over 40,000 artists from about 150 different nations using its platform.